Food Courts and Restaurants
in the Milford Mall CT
Please note: Things change so fast in Connecticut that this information may no longer be accurate.
Okay honestly, we don't spend alot of time in the Milford Mall, but when we do go, we always eat there.
Our favorite in the food court is the Japanese Chicken Teriyaki, and we always get it "To Go" because it seems like they give you more.
Anyway, since the Milford Mall is so very popular during the holiday season, you may want to eat at the Mall too. There are other fine restaurants there also.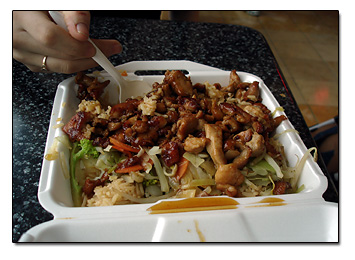 This page is to let you know what choices you have in the food court, and a list of the other fine restaurants there too. For instance, did you know that Knickerbockers Famous Restaurant was located in the Post Mall? Now they have closed though. That's a shame, they had great food and you didn't need reservations to eat there.
See the new Milford Mall Directory
See huge map of the Lower Level or Upper Level or the Food Court
Mall Update
Yes I know, they moved the Food Court. The last time I was in the Mall, it took me about 15 minutes to find where they moved it. Yep, I was in there to get the Teriyaki Chicken. Even after I found the food court, it took me awhile to find my favorite food because they changed their name to Little Tokyo.
New Milford Mall Restaurants
The Blue Turtle - 878-3183
Buffalo Wild Wings - 877-9453
Knickerbocker's?
Lin's
Moe's Southwest Grill
Panera Bread - 874-1721
New Food Court
Boubon Street Cajun Cafe - 301-9090
Cafe Europa
Johnny Rockets - 878-4220
Little Tokyo
Papaya King - 882-0700
Sbarro - 874-9587
Subway - 874-4425
Taco Bell - coming soon
Texas BBQ Factory
Yeung's Lotus Express - 783-0880

Milford Mall Index
Milford Mall
Mall Directory
Milford Mall Maps
New Stores at the Mall
Milford Mall Jewelers
Clothing Stores
Food Court Restaurants
Toddlers Playtown
---