Charles Island Milford, CT
This picture is Charles Island, and the tide is going out.
You can walk to Charles Island at low tide, but can't stay on it too long or you'll be swimming back.
Charles Island is a bird sanctuary and is fenced off, No Trespassing, it says.
It has a long history of use, and they even say it's haunted because nothing has ever prospered there.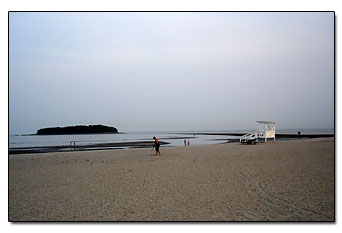 Walking to Charles Island
We walked over to the island one time, and there is a small path that encircles the island. We followed it all the way around. Also we noticed it is fenced all the way around too, so you can't go inside the fencing. See a bird's eye view of Charles Island
There is a rocky road that is revealed when the ocean water goes out, and it is hard to walk on. If you look real close you can see several people walking toward Charles Island.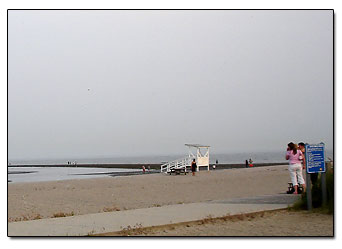 You have to wear water shoes, the rocks are slippy. They have added observation telescopes, and a nice boardwalk at the park. Pets on a leash are permitted in the park except not on the beach.
We took our relatives here after we ate at the Gourmet Buffet on Boston Post Rd. We didn't walk out to the island though, I had a hard enough time just getting my mom to walk in the sand. They liked it here and we took lots of pictures.
Read the History of Charles Island
Driving Directions
Located off of Route 1 in Milford CT, watch for Silver Sands State Park signs or exit Pumpkin Delight Rd.
---
This information is gathered from our own personal trips to Milford CT.
Therefore, information on the pages may change as far as restaurants, hotels, things to do, etc. Thanks for visiting!