Gourmet Buffet
Restaurant Milford CT
This is a picture of the Gourmet Buffet Restaurant in Milford CT.
It is very popular for it's wide variety of tasty dishes including crab legs.
They serve the crab legs on Mondays, Wednesdays, Fridays and Sundays.
We have yet to see the Gourmet Buffet packed out, with a line out the door, but maybe that's because we go to eat at nonpopular hours.
This is our "close to home" seafood restaurant that is affordable. We enjoy eating Chinese food, and also the hubby likes the meatloaf and mashed potatoes. The dessert table is not really extravagant, but we get too full for dessert anyway.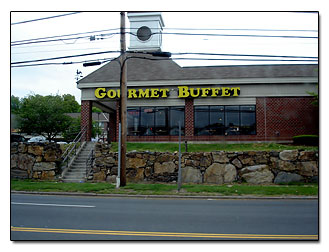 If you come here often, they give you a stamped card, and after 10 meals you get a free meal. They also have a small bar inside.The lunch hour meal is cheaper, but no crab legs or shrimp.
Directions:
Take exit 34 off of Interstate 95, at he end of the exit go straight, and at the light make a right. Look for the Gourmet Buffet on the left. It sits on the corner of a little shopping mall and you can miss it easily.
Gourmet Buffet All You Can Eat - 486 Bridgeport Ave. Milford, CT 06460 (203) 878-7830
---