The Curse of Charles Island
Charles Island History
One mile off Fort Trumbull Beach lies Charles Island.
No one has successfully lived on the island for any length of time since Ansantawae, chief of the local Paugussett tribe, used the island as his family's summer vacation spot prior to 1639.
That was the year he sold it to the early settlers in exchange for six coats, 10 blankets, one kettle, 12 hatchets, 12 hoes, 24 knives and 12 small mirrors.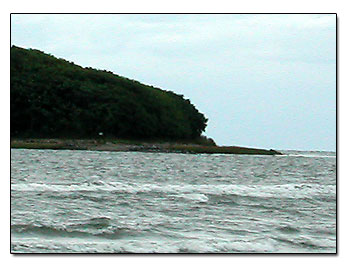 Over the years, a succession of enterprises were begun and abandoned. Dreams of a tobacco plantation by Charles Deal in 1657 did not come to fruition. The plant that produced fertilizer from dead fish failed to flourish. A hotel was started in the 1880's, but eventually closed. Finally a retreat for Dominican priests from New Haven was tried and subsequently given up. The nickname "Hard Luck Island" evolved as a result of these ill-fated enterprises.
A Cursed Island

The island is also the recipient of a string of curses, the
first curse
supposedly cast by a Native American chief in response to his daughter's kidnapping. They also say that Captain Kidd buried iron chests filled with gems and gold somewhere on Charles Island. And that Kidd left a
second curse
that would befall anyone who might disturb his treasure before he returned, so it hasn't ever been found.
The third curse a is supposedly because of a Mexican emperor named Guatmozin. Five sailors are said to have found Guatmozin's treasure in a Mexican cave in 1721 and brought it back to Milford. Four of the five sailors met terrible deaths. The fifth hid the treasure in the basement of the old Milford Inn, but apparently a drunken customer came across it while searching the cellar for beer. In the dead of night, as the story goes, the remaining sailor rowed out to the island and buried the booty, thereby imposing the last mighty curse upon the already beleaguered island. (From the Milford Mirror) See an aerial view of Charles Island
Driving Directions
Located off of Route 1 (Boston Post Rd.) in Milford, watch for signs or exit Pumpkin Delight Rd.
__________________________________________
Popular Pages Shoreline Restaurants in West Haven - Very popular hotspots for some New England seafood.
Milford Beaches - See pictures of Milford Beaches on CozyBeach.com
Cooltan Tan Through Shirts and Swimwear - Get a tan through your clothes! Shirts, shorts, and swimwear. Great for wash and go traveling.
Stop and Shop Peapod - Get $10 in FREE groceries. Order anytime, day or night 24/7. Stop and Shop Peapod delivers groceries right to your door at the time that you select. Check Peapod out and get your promo code!
Safeway Now Delivers SAVE $4.95 on Your First Delivery Enter promo code DFIRST at checkout. $50 Minimum order required
Get a Letter from Santa Claus (Indiana) - The Santa Claus, Indiana postal stamp is unique and collectable.