Stonebridge Restaurant
Milford CT
The Stonebridge Restaurant has got to be the most popular bar and restaurant in downtown Milford.
The place is packed all the time.
Here's a quick picture of what the restaurant looks like.
We took it as we were riding by on our motorcycle.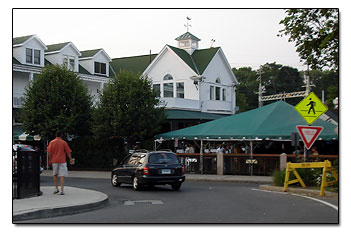 We haven't ever been in the Stonebridge Restaurant and bar, but it sure does look like a nice place to get together with friends. They have a unique dining experience that can be enjoyed by all. Casual American cuisine featuring fresh seafood, steaks, chicken, and pasta.
Restaurant Hours
LUNCH
Mon-Sat 11:30 a.m. - 4:00 p.m.
Sunday 11:30 a.m. - 2:00 p.m.
DINNER
Mon-Thurs 4:00 p.m. - 9:00 p.m.
Fri-Sat 4:00 p.m. - 10:00 p.m.
Sunday 2:00 p.m. - 8:00 p.m.
LATE NIGHT menu available in the Bar 'til 10:00 p.m. Mon-Wed and 'til 12:00 a.m. Thurs-Sat
Directions
I-95 Northbound
I-95 North to Exit 36 (Plains Road) End of Ramp Take Right. Continue Straight Thru Light, Then thru Two Stop Signs. After Second Stop Sign, Go over Rail Road Bridge to Light, Take Left onto Bridgeport Avenue, Continue Straight thru Milford Green thru Second Light. Bear Left at Fork in Road. The Restaurant is on the Immediate Right.
I-95 Southbound
I-95 South to Exit 39A (Route 1 South). Go Under Thruway and Merge all the way to the Left Lane. Continue Forward onto Cherry Street. Count Four Lights. Turn Left at Citizen Bank onto Gulf Street. At First Light, Turn Right onto New Haven Avenue. Follow to Rotary. The Restaurant is on the Immediate Right.
Merritt Parkway (Northbound or Southbound)
Proceed on the Parkway to Exit 54 (the Connector); Take First Exit Off of Connector (95 Southbound). Take First Exit (Exit 36 – Plains Road) Follow I-95 Directions as stated above to the Stonebridge Restaurant.
The Stonebridge Restaurant is located at 50 Daniel St Milford, CT 06460 (203) 874-7947
Bands Every Friday & Saturday Night! Join the complimentary Happy Hour Buffet every Friday Night!
Be sure to check out live entertainment at the "New" Daniel Street Club located directly across from the Stonebridge Restaurant www.danielstreetclub.com (203)-877-4446
---