Comfort Inn
Motels in Milford CT
The Comfort Inn is huge!
It looks more like a hotel instead of a motel.
We were rather impressed by how easy it was to find the Comfort Inn.
Not only that but their is a wonderful restaurant right in front of it called the Irish Pub and Steakhouse, or something like that.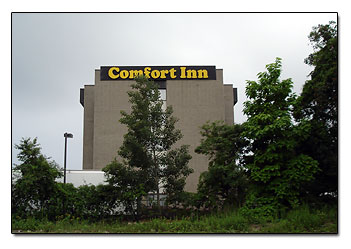 Comfort Inn - Exit 40 - 278 Old Gate Ln Milford, CT 06460
This Comfort Inn is only fifteen minutes to downtown New Haven. University of New Haven, Coliseum, Peabody Museum, Southern Connecticut State University. Palace, Shakespeare Theaters El Wharf, golf, and Milford beaches are just minutes away. Within walking distance to shops and restaurants. Milford, Connecticut is approximately 1 hour away from New York City, NY.
Directions
From New York, Exit 40 off of Interstate 95, make a right at the end of the ramp, and go several blocks. You'll see it.
---
This information is gathered from our own personal trips to Milford CT.
Therefore, information on the pages may change as far as restaurants, hotels, things to do, etc. Thanks for visiting!