Athenian Diner
Milford CT
This is a picture of the Athenian Diner Restaurant in Milford CT, the Athenian Diner is very popular and easy to find.
The Athenian Diner looks really cool from the outside, totally built in chrome and glass.
Every time we pass the Athenian Diner the parking lot is always full of cars.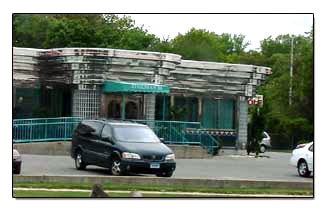 The Athenian Diner is open 24 hours a day, so I'll bet they have a great breakfast menu lined up. In the evening they serve seafood, steaks, cocktails, and have a bakery on the premises. Easily accessible from CT Interstate 95.
Athenian Diner Restaurant - 486 Bridgeport Ave. Milford, CT 06460
Directions:
The Athenian Diner Restaurant is located at Exit 39a off of CT Interstate 95. At the end of the exit make a right and you see it seeing on a corner on the right. Can't miss it.

---